Industrial
Cement based renders and trowelling compounds
Tylose® MC is an important additive ensuring there is sufficient water retention in renders and trowelling compounds.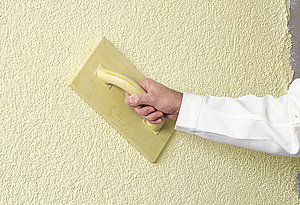 Renders are mixtures of mineral binders, aggregates and auxiliaries. Depending on the process, there is a distinction between hand and machine application. They are used for base coating, insulation, renovation and decorative purposes. Renders based on cement or cement/hydrated lime can be employed for exterior and interior work. Machine applied renders are mixed in continuously or discontinuously working plastering machines. These enables coverage of large wall and ceiling areas by a highly efficient technique.
Cement based jointing and trowelling compounds are used for repairing systems and to smooth coarse walls and floors. Grouts are applied to fill the gaps between ceramic or stone tiles.