Healthcare
Shin-Etsu AQOAT®
Enteric coating polymer and solid dispersion carrier invented by Shin-Etsu in the 1980s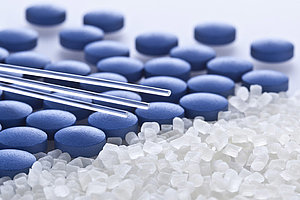 Hypromellose acetate succinate (HPMCAS, NF, JP) is an enteric coating material that can be used in aqueous or organic media.
Hypromellose is a non-toxic material which has been used in pharmaceutical, food, and cosmetic industries for many years. Based on hypromellose, acetyl and succinoyl groups are introduced to the hydroxyl groups of the backbone, and this constitutes Shin-Etsu AQOAT®, hypromellose acetate succinate (HPMCAS).
There are nine grades with different particle sizes (fine, medium, granular) and chemical substitution levels of acetyl and succinoyl groups to obtain an opening pH range from 5.5 to 6.5.
Shin-Etsu AQOAT® is the leading polymer in solid dispersion technology. It is suitable for spray-drying, hot melt extrusion, co-precipitation and other techniques. There are more than 14 approved products in the US using Shin-Etsu AQOAT® in solid dispersion.
Additionally, we designed our HME cleaner to support you with trouble free cleaning after the extrusion process. Please contact us for further information.